Mecca Normal history in point form, tour diary entries and reviews.


1985 - 1995

2007 - 2017

1996
Jean designs CD cover art for The Eagle & The Poodle (Matador) -- released April 9, 1996
The Eagle & The Poodle peaks at #75 on the CMJ Top 200, 1996
Jean produces Peter Jefferies' CD Elevator Madness at Sounds Fine to Me Studio and Profile Studio (Vancouver, BC)
"Since Sitting On Snaps brought them wider notice this year, the duo seem, calmer: their set here was refined, haunting, expert." – review of Mecca Normal show in Chico by Richard Martin, Puncture (Portland)
Slim Moon (Kill Rock Stars owner): "Starting at the beginning – Were the original methods used by Mecca Normal out of necessity or ideal?
Jean Smith: Slim, it was neither. It was a total lack of knowledge, understanding and scope that lead Mecca Normal to any method. Then it became, simultaneously, necessity and ideal. It is easier to stand by a band whose foundation you've invented. If you follow the rulebook and someone tells you "you're doing it wrong", then where do you stand? -- Interview between Slim Moon and Jean Smith in Resister #1 (New York)
"Did you ever think we'd still be making beautiful records 10 years later?" – Jean in a note to David on the anniversary of the release first Mecca Normal LP
"Mecca Normal is one of my personal nominations for a very short list of the best operating punk bands (with only Fugazi for serious company). – review of Sitting On Snaps in War Against Silence
"…Lester's playing is aware of the actual instrument to a greater degree than anybody else's that I know of. His guitar emits squawks, screeches, buzzes, rattles, discord, melody, drive, chaos and a dozen other sounds that it's usually the producer's job to filter out on the way to the finished production." – review of Sitting On Snaps in War Against Silence
2 Foot Flame album becomes #1 at KAOS radio (Olympia, WA)
Mecca Normal records Paris In April 7" for K records in Jean's Vancouver apartment.
Alt-Rock-A-Rama (Rolling Stone Press, Dell Publishing) book published with writing by Jean.
Feb 10: First public performance by Mecca Normal with Peter Jefferies on drums -- Vancouver (Malcolm Lowry Room).
March 7: Mecca Normal perform at a book launch for Sounding Off -- American Book Award winner -- includes article by Jean on The Black Wedge. Capitol Theatre, Olympia with Calvin Johnson's new band Dub Narcotic Sound System, Sue P. Fox, Mark Hosler of Negativeland and Sue Ann Harkey.
Mecca Normal shoots video for Revival of Cruelty with Elliot Rocket in Seattle and Olympia. Edited with Cyndee Baudhuin in Seattle.
David does 10 illustrations for Rebel Moon by Norman Nawrocki (AK Press)
Much Music VJ Sook-Yin Lee picks Dovetail by Mecca Normal as one of her Top 10 Canadian albums of all time. Her list also includes Joni Mitchell, Neil Young, No Means No and Leonard Cohen. – Chart Magazine (Toronto)
The Eagle and The Poodle is a lucky-13 song album about the tenacity of love, grade school teachers, a movie set lake where a paddle-wheeler prop explodes, the relentless pursuit of a future that eradicates the present along with its subtle imperfections, a blonde religion, a smooth fingered page turner who just can't put down the rule book, a dial-in radio show called "The Rival Theories Hotline" where you can mainline a dose of duality, a house without doors, the boxing match of the century: The Unexplored vs. The Replica of Duplication, Peach-A-Vanilla naked on the couch stroking her green ring finger, another world's future and a box of souvenirs that crumbles to dust. – Matador press release
"It's 'make up your own story'. A fable. The fable of the eagle and the poodle. I have this image of a TV screen and a talon, and a little white poodle with blood coming off it." – Jean interviewed by Clint Burnham about The Eagle & The Poodle in Exclaim (Toronto)
"Smith's voice conveys passion through her vocal acrobatics—she sings more from personal vision than from traditional training—and as a result, liking Mecca Normal is often a matter of liking Smith's voice, which I do. The fable that runs through The Eagle & The Poodle is an abstract sense of fragmented stories, some covering common themes of success, aspiration, greed and the like…" – review of The Eagle & The Poodle by James Keast, Exclaim (Toronto)
"Mecca Normal are one of the few bands I know of that put some aesthetic meaning into the term 'independent.'" – review of The Bird That Wouldn't Fly 7" by Glenn McDonald, The War on Silence
"Whether people feel uncomfortable with my music isn't something I've ever taken into consideration. Some people like to feel uncomfortable." – Jean Smith interviewed by Matt Galloway, Now (Toronto)
"Clasp hands, dear readers if you dare, and descend into Album Eight, a haunted spiral-staircase to the underside of the waking world. Thirteen songs step downward to dream states which may—or may not—concern exploding riverboats, a religion of blondes, decaying mementos and another world's future."-- review of The Eagle & The Poodle by C.J. O'Connor, Eye (Toronto)
"What we're doing really is underground music." –David Lester interviewed by C.J. O'Connor, Eye (Toronto)
"I think people believe our music is really angry just because it sounds discordant. But really, you can play dissonant –even difficult—music without necessarily being enraged all the time." –David Lester interviewed by C.J. O'Connor, Eye (Toronto)
Tour Report by Jean Smith, July 1996:
Earlier this year Mecca Normal played its first ever show with drums. This historic event was amplified by the 10th anniversary of the release of our first album. Mecca Normal is officially a trio and 2 Foot Flame is officially a duo. We toured in the east and south in April and May. We'll be on the west coast in August. The current album was produced by Peter here in Vancouver at Profile Studio where I've just finished producing Peter's next album, Elevator Madness (to be released on Trance Syndicate mid-October). K Records is releasing a Mecca Normal 7" called Paris in April, an acoustic three-songer recorded at Sounds Fine To Me Studios.
Christina and Matt came to the show in Yipsilanti, MI at the Green Room--an excellent space--to make sure we had a place to stay. They are part of the Honorary Impostership Program (various opinionated people are on the road claiming to be Mecca Normal for the purpose of gaining access to radio stations to talk about the environment, political activism and the sexuality of teenage girls).
In Toronto the opening band is By Divine Right. Dave has equipment problems that stall our show but BDR's guitar guy Jose is right there loaning Dave his amp, cords and eventually his guitar. We played live on Much Music (Canada's MTV, but not as uptight).
Montreal: We played for 90 minutes in a beautiful little theater with a balcony (The Cabaret). The entire show was broadcast on Canada's national radio (CBC) on Brave New Waves--an excellent show.
In Charlottesville, Virginia we played the Tokyo Rose, the only sushi bar I know that does punk rock shows in the basement. The opening position on the bill was a 27-year-old woman who told the story of how that very day she, for the first time in her life, bought clothes for herself. Until that day her mother had bought her clothes. Her fashion sense was not up to scratch--red blazer and a navy pleated skirt. It's a start, though. Imagine--independence at 27! Next thing you know she'll be cutting her own meat!
The Atlanta show was great, our first show ever there. Members of Possum Dixon and Mudhoney were very nice! In fact, Mark Arm found my hair clips on stage and returned them to me with a huge helpful smile. Sweet boy! We stayed with Thomas Peake, a music critic who we tried not to be too friendly with -- we made him buy us breakfast.
Birmingham was so friendly that we almost didn't want to separate from our new friends to play the show. Michael (our host) made us pork chops and cornbread after the show, like at 2 a.m.
New Orleans was so incredible to wander through. As we played in Anthony's front yard until the cops came (we were just finishing anyway). Have you ever noticed how quickly parties evaporate when the keg is gone? The streets of the French Quarter were packed with people drinking margaritas in plastic cups.
Houston was our next show but we'd left enough time to visit the Tabasco factory--a total thrill! Toby is the booker and sound guy at Mary Jane's in Houston. He was completely helpful and he laughed at all my jokes. Charalambides played with us and later took us home. Just last week I got my music stand in the mail, I'd left it at their place. I didn't even have to ask them to send it. I hope their good deed is returned to them on their tour.
"Welcome home. I made some muffins for you and Jean and a strawberry pie and some dream whip. It's all in the fridge. Thaw the pie out before you eat it."— note left by David's mother at his apartment when he returned from tour.
"Mecca Normal is their landscape, their collaboration, their 11-year odyssey in beautiful, ugly, experimental self-expression."-- review of The Eagle & The Poodle by Natasha Stovall, Village Voice (New York)
"Smith wants you to consider breaking convention, but she also wants you to know about what happens if you don't. 'Her Ambition' is a cautionary tale about just that: A man and woman get together; she puts aside her aspirations and over time is subsumed into him." -- review of The Eagle & The Poodle by Natasha Stovall, Village Voice (New York)
"Don't let them infect you with their subversive activities." -- review of The Eagle & The Poodle in The Daily Bruin, UCLA (Los Angeles)
"Mecca Normal is a band of a rare breed, one which has been around for over 10 years without jumping bandwagons of lame trends. They've managed to stick with their simplistic yet beautiful eerie style of music without becoming repetitive and boring. Smith's distinctive voice and delivery is enough to send chills down your spine (which can be rather fun). -- review of The Eagle & The Poodle by Sarah Shimizu in Vox (Calgary, AB)
"I try to break down some of the rules of communication without being something of the sloganeer that I was in my younger days. I used to say exactly what I was thinking but now I give audience members a lot of room to interpret. I also don't really think it's my job to make sure they think what I want them to think." -- Jean interviewed by Joe Sebastian, The Daily Texan (Austin)
"I've never been very clear on where a song stops being a poem or whether a song is just not a very good poem. It's that gray spot between poetry or songs or literature in general – that seems to be one of the last frontiers." -- Jean interviewed by Joe Sebastian, The Daily Texan (Austin)
"Her voice has gotten quieter recently--not sweet, but more lyrical. The characters populating her songs have gotten quirkier, more the stuff of novels than the wayward poets we know." -- review of The Eagle & The Poodle by Andrea Moed, in CMJ Monthy (New York)
"…her singing here is some of her best and most adventurous to date…" -- review of The Eagle & The Poodle by Douglas Wolk, in CMJ New Music Report (New York)
"I was absurdly depressed and scalding the night you played. It may sound like sentimental fallderfall, but Mecca Normal levitated me out of it." – a letter to Mecca Normal from Love Rake, New Orleans
Mecca Normal record a song called Hurricane Watch for a Matador Records comp CD.
"No they're not very easy to listen to, but life ain't very easy, is it." -- review of The Eagle & The Poodle by Holly Ennist in Aquarian Weekly (New Jersey)
"I'm still as always, inspired by your visionary approach to the music industry and your tenacity to that vision. I'd like to thank you for sticking to your guns and paving the way for other innovative artists. – a letter to Mecca Normal from Patty-Lynne, Seattle
"One of the best ones yet. Yeah, I know that's saying a lot in the face of albums like Dovetail and Calico Kills the Cat, and the Jarred Up singles-comp, but I really think it's up there with those." -- review of The Eagle & The Poodle in Snipehunt (Portland)
"'Have you ever tried to dig straight through to the other side of the world?' These words begin Mecca Normal's eighth and most musically diverse album. The longtime duo of David Lester and Jean Smith is joined by propulsive drummer and producer Peter Jefferies, whose work shifts the group's dynamic from avant garde to raw, driving rock without diluting their power." -- review of The Eagle & The Poodle by Matt Smithwick, The Rocket (Seattle)
"People were wondering what we might have sounded like with drums. It's not quite what you'd expect it to be. Peter plays the drums very melodically." – Jean interviewed by Matt Smithwick in The Rocket (Seattle)
"The struggle for self-expression and autonomy is the driving force behind powerful new records by Sleater Kinney, Bikini Kill, Team Dresch, Tribe 8 and Mecca Normal." – Evelyn McDonnell, NY Times (New York) Evelyn McDonnell co-edited 'Rock She Wrote: Women Write About Rock, Pop and Pap"
The Eagle & The Poodle would reach #8 on Canada's national college chart.
"When You Know is a song that had been around for a while that we'd never recorded. It was meant to be very angular and experimental, but I think it expresses what you might say to a friend during some kind of turmoil. 'Things you used to do alone, I will do with you. Ladders, walls, red carpets, lakes. And down we go through our mistakes.' An offering to a friend -- for better or for worse." -- Jean's favorite song on The Eagle & The Poodle album and why.
The Revival of Cruelty. When You Know.
-- David's favorite songs on The Eagle & The Poodle album
Her Ambition
She used to work days
at the counter
He, sunken cheeks
paint flecks on his clothes,
rubbed the dust from his hair
and went to meet her.
Together they drove home.
Her ambition faded
her ambition slipped away.
After she used to work
part time in an office.
He built things that
other people wanted.
He couldn't keep them for himself.
He paid exactly half their bills.
She began to move like him
and pick up all his habits.
He developed a fondness for
rare wood from mainland China.
Any extra time he had he spent
sharpening his tools.
Her ambition faded
Her ambition slipped away.
She can't stop the dullness
something slowly rotting
in her box of souvenirs.
She finds a token of her ambition
and rolls it in her hands.
She rolls it in her hands
and like her plan, like her desire
it disappears.
Her ambition faded
Her ambition slipped away.
Prize Arm excerpt
Prize arm, rubber bandit
enthusiasm stripped away.
Socretes! Assumption!
Blonde religion
rigged with terminal velocity.
Write your own damn anthem.
Run it up the flagpole.
When You Know
Where you know you shouldn't go
I will take you there.
When you know you want to turn around
I will take you on.
Things you used to do alone
I will do with you.
Where you used to go alone
I will go with you.
Ladders, walls, red carpets, lakes
and down we go through our mistakes.
"Whenever I tried calling you from S.F. in the spring (where I worked for the German Goethe-Institute), all I got was a message telling me how busy you were." – letter to David from Nils in Germany
"You are always welcome to crash and burn at my place." –letter to Mecca Normal from Laura in San Francisco
"This duo is simply without compare. Mesmerizing. They demanded and received absolute full attention… A small town like this ensures one the privilege of drinking with the famous and talented! They didn't ever let on that they were famous…" –Trish reviewing Mecca Normal at Super Winners festival, Chico, CA
"…admired by a pretentious minority of an alt-rock subculture already way too full of itself…" -- review of The Eagle & The Poodle by Robert Christgau, the Village Voice (New York)
"They can do no wrong. But gone is the duo, now they'll look like any other band until you hear them." -- review of The Eagle & The Poodle, Giant Robot
"Just wanted to say once more that it was great playing with you… It was probably the most memorable night of music in Houston in oh, a year at least (especially the last Mecca Normal number…). We would've liked to have talked more but certainly understand the late-night post-show exhaustion." – letter to Mecca Normal from Tom, Houston, TX
Jean designs the cover for a Mary Lou Lord 7". The single ends up not coming out.
"A few days ago, I bought myself a Venetian blind, made in red plastic. It looks good and in the afternoon, when the sun comes around the corner, it turns the whole room into flaming red. Sure, it is a bit scary too. I like your new album. I like it how it is. Peter's drumming is good, I mean it's not too much, no, it fits into your music. Not to forget, the cover-work, its beautiful, I put the record in front of all the other records so I can see it everyday." – fax to Mecca Normal from Dirk,, Kaufbeuren, Germany
"I finally made copies of the tape of when you guys played in my yard. Would you guys be interested in doing a 7" with the stuff recorded on the Fisher-Price recorder? I'm already doing a split 7" with Pee Shy and Home from when these two bands played in my kitchen." – letter to Mecca Normal from Anthony, New Orleans, LA
"We recorded it (Hurricane Watch for a Matador comp CD) on our 4-track and then mixed it at Profile where we have captured a genius engineer (Mark Cohen) to entertain our every whim. Peter and I just finished mixing his album (Elevator Madness, on Trance Syndicate) with him as well. It was incredible for me to get the chance to produce it." – fax from Jean to Gerard Cosloy, Matador
"Phrases like 'work of art,' 'avant-garde.' 'art music,' or 'free jazz' are not generally associated with political punk rock, but Vancouver, BC duo Mecca Normal is changing that. The Eagle & The Poodle is an atmospheric work of such vision and integrity as to blur the lines separating punk goals, attitudes and guitar sounds…" -- review of The Eagle & The Poodle, Carbon
"My first cycling road race about 70 miles took place two weeks ago and it was really fun, even just to see more than 300 slim men in good shape, wow! You know what I mean? Jean, I have to thank you a lot for getting me to know the music journalist Pinky Rose… A powerful and critical woman. We often talk for hours on the phone and together we interviewed Tortoise. Now we're close pals. Because of you." – letter to Jean from Elena, Radio Meltdown, Munster, Germany
"Amazingly, Mecca Normal are still finding new ways to make music using one guitar and one voice. While Jean Smith's vocal style can sometimes remind you of a fly repeatedly hitting the window, her talent as a storyteller eventually wins most people over." -- review of The Eagle & The Poodle, Snakcake
"I am in a musical group here in Vancouver and we are hoping to plan a tour in India." – fax by Jean to India Today & Tomorrow Radio
"Live, it could lead to bouts of brutal self-examination, feelings of guilt and uncontrolled fits of tears. But they'd be the good kind of tears." -- review of The Eagle & The Poodle by Joe Gorden, The Onion
"Peter played a show here (Vancouver) and I played guitar on 3 songs at this show. Do you remember a long time ago, after I phoned Peter from your house to tell him to dare a tour with you? Do you remember an idea of me saying I would play guitar if Alistair couldn't come? So it finally happened! I used a delay unit with distortion and an e-bow. I don't roll around on stage, I just make a hell of a lot of feedback. Works fine bine!" – fax by Jean to Dirk, Germany
"… her esoteric messages and the way she presents them are too beautiful to pass up. On The Eagle & The Poodle, Jean and guitarist David Lester once again wrap their souls around each other until they are one. It's beyond eerie how these two coexist artistically. Jean cuts them a path through life's underbrush with her words, and David builds bridges with his guitar to carry them both across a canyon in order to reach the other side where Jean will hack away at whatever is in her way." -- review of The Eagle & The Poodle by Caldwell Noble, Moo
Paris In April 7" (K records) released August 7
"Quiet, contemplative, and beautiful, yet strong and empowering." – review of Paris in April 7", The Rocket (Seattle)
Mecca Normal, 2 Foot Flame and Peter Jefferies tour the west coast, August 1996. Tour notes by David:
Stop near Bellingham to visit Michael of Noggin. He lives in a house built by his great grandparents. There is a huge piano leaning, strings exposed against the wall, so we play it like a harp. Sounds great. Rent a brand new Lincoln Continental for the west coast tour. Jean buys a Fender guitar on the way out of town. Play a show in Seattle, where our friend Argon says we were better than last time. Stay at Argon and Eva's place. Push start Eva's car in the morning. In Portland, at EJ's we don't go on until 1:15 a.m. the latest we've ever gone on. In bed by 4 a.m. Stayed with L who was unhappy about his job in a record store selling Rancid records to the public, while nobody wants to buy the music he loves. Drink from the Lithium fountain in Ashland, OR. Listen to a book on tape called The Red Fox by Anthony Hyde and read by Donald Sutherland. Jean drives 500 miles today. Play in Chico, CA in the window of a Mexican restaurant. Peter spills beer over the merch. On the way to San Francisco, listening to NPR, we hear a terrible speech by presidential candidate Bob Dole. Play Bottom Of The Hill in SF, where one guy tells us he's waited 10 years to see us. A woman says she last saw us 4 years ago in Santa Cruz and she was so moved by the experience that her boyfriend has been ordered to attend this evening. The show is great with an enthusiastic encore. In bed by 5 a.m. Our bodies are light feathers made of lead. Sleep until noon. Sushi for breakfast. In Los Angeles, we drive into the venues parking lot and a black guy says that will be $2, we pay, only to discover he was just some guy passing by. Almost run out of gas on the way back up the coast to San Luis Obispo, thankfully a 6% downgrade appeared at the right time. Stop to watch surfers in Pismo Beach and I buy a Fugazi record. In San Luis Obispo, Mecca Normal is only 2 songs into our set when the promoter Melissa says the police have closed us down because of a noise bylaw. At the Agenda Lounge in San Jose we get a standing ovation at the end of the set. Stay at the bookers place, where I sleep in a room with nothing but a shag rug on the floor. I'm up first and go bring back coffees from McDonald's. In Davis we stay with a booker who seems to be obsessed with surveillance equipment. Heading north we listen to another book on tape by Emberto Eco, the story of a man who wakes up on an abandoned ship. Take a detour off the I5 and visit a gold rush ghost town, it turns out to be the location where the old TV show Gunsmoke was filmed. Encore in Eugene. Stay with Robert and Denise. I get a couch.
Mecca Normal set list, August, 1996:
1. Water Cuts My Hands
2. Armchairs Fit Through Doorways
3. Her Ambition
4. Breathing In The Dark
5. Don't Shoot
6. Tower Island
7. Revival of Cruelty
8. The Dogs
9. Struggles the Clown
10. I Walk Alone
11. Throw Silver
12. Drive At
13. Prize Arm
14. When You Know
"For 11 years, this Vancouver, B.C. duo has explored diverse frontiers both sonic and lyrical, distinguished by David Lester's transgressive guitar work and vocalist Jean Smith's crooning alto." – The San Francisco Bay Guardian
Jean Smith is a featured writer at the 14th Annual Sechelt Writers Festival in B.C. She performs with Mecca Normal. Other writers at the festival include, Jeannette Armstrong, M.A.C. Farrant, Brian Fawcett, and Patrick Moore.
Mecca Normal play a show at the Impala (Los Angeles) with Nothing Painted Blue.
"Mecca Normal is fuelled by minimalistic, but incredibly creative songwriting and punk energy, accentuated by Lester's Townsend-esque windmill guitar-playing." – Chico News & Review
"I don't know squat about this band (Mecca Normal), but if they're on the Cal Poly student-run station, they must be weird at the very least." – The Arts (San Luis Obispo, CA)
"In a business where integrity often disappears at the wave of a dollar, the members of Mecca Normal maintain a rare devotion to their art. -- Richard Martin, Willamette Week (Portland, OR)
"I've never viewed this as a fleeting thing that we've done in our youth that we'll get over. My parents are waiting for me to get over this stage. I'm going to be 37 tomorrow, and I'm not yet nearing the point where I'm going to get over this stuff." – Jean Smith interviewed by Richard Martin, Willamette Week (Portland, OR)
"I can't believe it. We're amazed that we can do this 10 years on, and what we've tried to point out is that eventually, longevity becomes a factor. A lot of people do give up because they simply can't make it work financially, or fashion tells them that they are not acceptable anymore. So for us to keep doing this, no matter what the fashion is, then it becomes a kind of radical statement in itself. That's exciting. And to be getting older and to be able to play this type of music is exhilarating." – David Lester interviewed by Richard Martin, Willamette Week (Portland, OR)
"Mecca Normal is aesthetically radical." – David Lester interviewed by John Payne, LA Weekly (Los Angeles, CA)
"When you're in your early 20s or younger, you feel you need to respond to your feminist, social and political concerns, but you don't really trust that your audience is as incredibly brilliant as you are. So you have to yell these platitudes at them, because you suddenly figured it all out like a ton of bricks have fallen on you. But you learn that you don't have to hit people over the head with information, that if you ease up on your own observations, you can discover things in your observations." – Jean Smith interviewed by John Payne, LA Weekly (Los Angeles, CA)
"On The Eagle & The Poodle, Lester again treats the guitar with discomfort, like it's someone else's baby he's been asked to hold for awhile." -- review of The Eagle & The Poodle by John Payne, LA Weekly (Los Angeles, CA)
"This music finds liberation in claustrophobia. It's a finely drawn, non-improvised sound wall where every instrument and voice carries equal weight; each part molds the character of the others." -- review of The Eagle & The Poodle by John Payne, LA Weekly (Los Angeles, CA)
"This kind of music we create, is in the interest of the essence of each piece, each note, and the beauty that can be found in that. It's the antithesis of the rock video, the change every half second. We appreciate holding down one chord for as long as possible. It would be a glorious achievement for us if we could pare it down even further." – David Lester interviewed by John Payne, LA Weekly (Los Angeles, CA)
"If people sit there and look at their watches, that can be irritating – then I have to go tip their tables over. The audience does need to realize that they are part of the equation." – Jean Smith interviewed by John Payne, LA Weekly (Los Angeles, CA)
"When we were precursors [to Riot Grrrl], we didn't know what was going on. When you're a part of it, you don't recognize your own slot." – Jean Smith interviewed by Rachel Leibrock Davis, News & Review (Sacramento, CA)
"Forget Rancid, Offspring and Green Day. Forget the Sex Pistols. The most important punk band of the '90s is Mecca Normal." – profile by Rachel Leibrock Davis, News & Review (Sacramento, CA)
"I think when people talk about punk, it's the essence of what was an ideal: making music yourself, exploring what you want to do without boundaries. It has less to do with a stylistic sense. We approach music from our own sensibilities. We're not ruled by fashion shifts that come along every few years. The idea is to maintain the dignity you have within." – David Lester interviewed by Rachel Leibrock Davis, News & Review (Sacramento, CA)
"I am dropping off the enclosed current copy of Rockrgrl and a t-shirt for you. My daughter, Carla DeSantis, of whom I am quite proud, is the publisher and editor in chief of the zine. Carla also told me that Slim Moon from Kill Rock Stars has spoken very highly of you and was planning to do an article on Mecca Normal for Rockrgrl. I am a retired person and now feel I would be too conspicuous if I went to hear you this evening." – from a letter left for Mecca Normal at the Agenda Lounge, San Jose, CA
"I also wanted to especially thank you for 'Don't Shoot 'til you see the whites of their eyes', one of my favorite moments in all of music…" – letter to Mecca Normal from Glenn McDonald, Cambridge, MA
Mecca Normal's I Walk Alone is played at a Take Back The Night march in Vancouver.
"I don't know about you, but I miss Mecca Normal's punkier side. Strange: now that they have a drummer, they've gotten quieter." – review of the acoustic Paris In April 7" in Discorder (Vancouver, BC)
"Our views maybe confrontational or a bit quirky and it's maybe a good thing that other people view that as a forum to say, 'Well, I don't agree with you.' That's part of the social process. Not everybody has to be compressed into one thin band of mainstream." – Jean Smith interviewed for a cover story by Elvira Balakshin, Discorder (Vancouver, BC)
"Vancouver rocks. And we love Jean Smith." – King Coffey, Butthole Surfers
"I was singing a tune around the house, 'A Fairey Found a Farthing on a Dusty Windowsill,' and my mom said, 'What is that? Sing that again.' So I sang it with all my heart again, and she said 'That is the worst thing I've ever heard. That is terrible.' I thought that was so cruel to get this little kid to do it again so you can listen critically and say 'You're awful.' So I didn't sing for awhile. But when I did sing again all hell broke loose." – Jean Smith interviewed by Thomas Peake, Stomp & Stammer (Atlanta, GA)
"The bottom line is that we're still weirdos." – David Lester interviewed by Thomas Peake, Stomp & Stammer (Atlanta, GA)
"It's okay if you're a blues musician or a jazz musician to carry on to be 60 or 70. But what about rock musicians? What about all these idealistic young people playing music – so they just give up? Is that really what the point of this is? To give up?" – David Lester interviewed by Thomas Peake, Stomp & Stammer (Atlanta, GA)
"I suppose that's a theme that comes up again and again in the album [Eagle & The Poodle], the idea of taking a course and having it sidetrack you from other possibilities you could have developed in your life." – Jean Smith interviewed by Thomas Peake, Stomp & Stammer (Atlanta, GA)
"There is no way to be pure, especially as soon as you've defined yourself within a doctrine whether it be feminism or communism or anarchism, you were then throwing this lasso over your morality and your own humanness." – Jean Smith interviewed by Thomas Peake, Stomp & Stammer (Atlanta, GA)
"Mecca Normal's aesthetic body politic shares a rare ability, a la Czech novelist-in-self-imposed-exile Milan Kundera -- to make the political personal. -- Thomas Peake, Stomp & Stammer (Atlanta, GA)
"Lester's guitars are as inventive as ever. Gracefully attacking and lulling, he has captured Smith's emotional range in strings." -- Thomas Peake, Stomp & Stammer (Atlanta, GA)
"When I started making music, it wasn't really because I was itching to be in a band and therefore had to find something to say. I wanted to express those ideas [feminism] in particular, as well as other ideas about poverty and the way our system is organized, ideas about electoral politics and so on." – Jean Smith interviewed by Adam Gottlieb, Statik, CKUT, (Montreal, PQ)
"It seems like popular music has to a degree been reduced to platitudes for and by simpletons." – Jean Smith interviewed by Adam Gottlieb, Statik, CKUT, (Montreal, PQ)
"Rock 'n' roll is probably the most stylistically conscious of all the musical forms, and it's almost neurotically so. Sometimes I wish people would drop the neuroses and just get on with it, without worrying that you have to be 19 years old in order to write a good rock song. It's not really that way, unless you believe it to be that way." – David Lester interviewed by Adam Gottlieb, Statik, CKUT, (Montreal, PQ)
"It's good to know how to do everything yourself first-hand but it's not necessary to control every facet of your creative, touring or recording life. Find people that you really like to work with, get along with, enjoy and respect their input, those are the relationships worth developing." – Jean Smith interviewed by Adam Gottlieb, Statik, CKUT, (Montreal, PQ)
"Those songs [on Calico Kills the Cat and Water Cuts My Hands], were a very powerful reaction to deal with, responding to physical and psychological violence against women. They were very direct, saying that this is not acceptable to me, to women or to society; this is not just a problem for women. It's an overall problem that everybody knows about and has to face on one level or another. I think those songs in particular were also intended to be an inspiration to women to look at their own potential for self-expression through music." – Jean Smith interviewed by Adam Gottlieb, Statik, CKUT, (Montreal, PQ)
Mecca Normal is asked by Vickie Starr of Girlie Action, for permission to use A Kind of A Girl for the feature film Ratchet. The song did not make the final edit. "The director (John Johnson) also loves your music, and he was sad that the song had to be removed. At any rate, thanks for all your help, and thanks for continuing to create amazing music."
David Lester on guitar, backs poet Norman Nawrocki at his book launch for Rebel Moon (AK Press) at La Quena (Vancouver, BC)
Mecca Normal play Rock For Choice benefit with Team Dresch at the Vancouver East Cultural Centre. Concert taped for broadcast on CBC Real Time radio program.
Sook Yin-Lee interview with Mecca Normal broadcast on Much Music (Canada).
Interview with Sleater-Kinney in Discorder Magazine (Vancouver, BC) 1996:
DISCORDER: Do you remember a singular moment, i.e. listening to a particular single or an album, or having been to a concert, that was the moment where it all made sense?
CORIN: One of them was in high school, on my senior prom night, or whatever they have in high school. I went and saw Mecca Normal. They opened for Fugazi…. Mecca Normal just completely blew me away.
CARRIE: I had gone to shows in Seattle for years in high school, but I guess it was just the first time that it was like 'Oh, I can do this too.' And also, just listening to the Jam or the Buzzcocks, or something, it never seemed like something I could be a part of except for as a listener.
DISCORDER: So was it the live experience that you'd say made it really clear for you?
CARRIE: I think so, but even just listening to the records was inspiration enough to go out and pick up a guitar. I actually already played music, and in high school had formed an all-girl band. That was pretty much a joke, even to the point that we had to consider it a joke because otherwise… it was too scary to take seriously…
DISCORDER: Was it a covers band?
CARRIE: No. I mean, we wrote our own songs, but we were just too… you know, there were the 'real bands' – those were the boy bands – and we were like a novelty band, because we were women.
Jean Smith records and produces a 12 song album called Give Me A Call by Duane Crone, a singer songwriter who had been performing 8 hours a day, 6 days a week for 11 years outside the liquor store on Commercial Drive in Vancouver, BC. The cassette is released on Smarten Up! Records.
In Punk Planet Magazine (Chicago, IL), Slim Moon picks The Eagle & The Poodle as one of his top 5 albums of the year.
The Rocket (Seattle, WA) selects The Eagle & The Poodle as one of the top 40 albums of the year in the Pacific Northwest.
Paris In April is on a comp CD released in Spain called Club Nasty Boots.
Playing guitar, David backs downtown eastside poet Bud Osborn at La Quena (Vancouver, BC)
1997
LIVE Mecca Normal -- streaming KCRW Los Angeles, December 1997, songs from
Who Shot Elvis?
KCRW Los Angeles



David's amazing Year End Reports
1998 (top), 1999, 2000, 2001, 2002, 2003
to be transcribed


2000

December, 2008
I'm uploading the opening piece from a show in 2000 at the Black Cat in DC Jean Smith MySpace player.
Shannon Morrow on drums, Bob Massey on guitar and I played guitar and sax and sang a bit. This was the band I put together to tour after my solo CD came out on Kill Rock Stars (2000). I used the vocal drone I'd made for the CD and basically we worked out some themes, let's say, loosely speaking, for some of the pieces on the CD. Bob had some idea that I'd composed the music on the CD and he felt sort of intimidated, I think.

I'd met Shannon a couple of times in Durham, NC. Bob contacted me in email, in response to an ad I was running through the Kill Rock Stars Newsletter. I was looking for a guitar player. I'm always looking for collaborators. Guitar player, drummer, keyboard player. I hadn't heard of Bob or his bands, but he knew the Dischord folks and we communicated in email and decided to meet at Shannon's place in Chicago to rehearse for a week before doing the shows I'd booked in the Northeast. Chicago, NYC, DC. I forget where all we went. I remember being on a rooftop in NYC on the fourth of July. I remember staying in a huge and wonderful apartment in DC for a number of days. Bob worked at the Post and he was housesitting the art critic's enormous apartment that looked out on DC from three sides of its hardwood-floored sophistication. The kitchen was stocked with things like dried cherries and French lentils in jars. Pecans and spelt pasta. Bob put Shannon and I there and went across town in his van to his house, a shared house where we got a few more rehearsals in, I think. Shannon and I were non-drinkers. So that was great since I was in my first year of sobriety. Part of why I was making a solo CD. Ending a relationship, quitting drinking, Mecca Normal quiet, but not, as some articles on us reported on hiatus. We've never been on hiatus and man, do I hate that word. What the fuck? Hiatus?

Anyway, it was sort of crazy and bold -- Bob and I never even talked on the phone. We just set up rehearsal after emailing for a while about the music. This, to be clear, was no kind of romance. No intrigue in that way. I don't think Bob was a huge Mecca Normal fan -- he was simply game for adventure and maybe he thought I had a draw or that we'd be playing in front of tons of people. I encouraged Shannon and Bob to get their people, their fans, out to the shows in each city. I viewed the project as an equal collaboration, saying that what we played didn't have to relate to the CD at all -- we could be our own whole new thing, but our rehearsals weren't all that smooth. I really prefer a guitar player who has a solid thing happening, one who isn't catering to me and my playing. Not that Bob was catering per se, but it was all a bit awkward -- never having met. Never having played together or connected in a musical way. Bob, as a person, was way less social than I imagined he would be. I mean, who does that? Who answers an ad in email and boldly flies from DC to Chicago to rehearse with two people he's never met to then go and do shows on tour. Who would do that? I figured he'd be really outgoing and possibly even zany.
Shannon and I drove to airport. I mean, it was weird enough for me to fly from Vancouver to Chicago and meet Shannon at the airport. Really, we'd only shared a bill a couple of times in Durham and talked a bit and I guess Mecca Normal stayed with friends of hers when we were down that way when she lived in North Carolina. So there was a connection, but with Bob, it was pretty much a shot in the dark.
Shannon and I had a couple days together before Bob got there. We played and I think that was OK. We talked about what we might do, how to go about getting this together and then we went to meet Bob at the airport. I saw him and went up to him and gave him a hug. I am pretty sure his arms stayed at his sides and when I was unhugging him I think I recall a frown of disapproval on his face. OK then.

Shannon was going to take time off from her job at a beauty parlour where she cut hair. I was invited in for a trim and she wanted to do some streaks or highlights and that was good with me, but when she finished she'd given me grey streaks !!! Fuck !! Here I was, already feeling pretty old at forty, but at least I don't have that problem -- still, at almost fifty, I only have a few grey hairs. So, thanks a lot Shannon. I forget what we did about it, but it was rather mind-blowing at the time. Nice new grey streaks all through my hair. Sheesh.

On the Jean Smith MySpace player (December, 2008) -- eleven minutes live at the Black Cat, 2000 -- it starts with the vocal drone and Shannon playing drums and me on guitar -- the slithery slide -- and then Bob comes in low down on guitar and I switch to sax and my idea would be that we create a continuous drone, but Bob does sort of the opposite which is perhaps more obvious and natural to the piece. He fortifies the waves I create which I am only creating because with both the vocal drone and the sax, I need to breath, so Bob follows into my lulls when I would have preferred that he build in my absence. There was frustration between Shannon and Bob. Shannon wasn't enjoying playing with Bob that much. I hadn't really thought of that, as both people offered to play with unknown people I figured they would be more able to adapt -- and me, well, I'm more of an accent creator, drone maker, not essentially the leader or the composer giving instructions fer god's sake. It was all quite tame and nothing bad happened. I had an idea the pieces would be wilder and not as reliant on me. That I could play to, rather than music where I take up a lot of space.
We were preparing for the show at the Black Cat in DC; Shannon was in the bathroom for ages getting ready and I was waiting to do my thing in there and it got later and later, so I propped up the mirror in my compact to do my make-up in my bedroom as Shannon was officially hogging the bathroom and Bob would be there any minute and we'd have to run downstairs and go to the show. So there I was, doing my make-up in the tiny mirror, thinking, holy shit, the Jean Smith Band and Jean Smith can't even get into the bathroom to do her make-up and then Shannon came into my room in a tizzy asking for my compact mirror so she could see the back of her hairdo and there I was with half my make-up done and no mirror and Bob on the buzzer. I mean, it didn't really matter, just a little scene I recall.
I remember it was raining as we loaded in to the Kyber in Philly. I have never seen a drummer load in with an umbrella, but that's what you get with a... what do you call a person who cuts hair? Hair stylist, I guess. From the south; that southern accent and carefully done hairdos. Oh my.

Jean receives a
British Columbia Arts Council
, Project Assistance for Creative Writers award.
Jean Smith
solo CD release on Kill Rock Stars.
2001 - 2002
Five tours in North America -- approximately 100 performances, many of which included art exhibits and a lecture or workshop.
Jean receives a Canada Council for the Arts, Emerging Writer award.
Family Swan
-- a poetry chapbook -- printed with Nikki McClure at Community Print in Olympia. Published by Get To The Point Editions.
2002The Family Swan
CD released on Kill Rock Stars.
FREE DOWNLOADS
No Mind's Eye
What About The Boy? -- Recorded to DAT in the audience by Jack DeGuiseppi
at
Yo Yo A Go Go
Festival in Olympia, Washington (July 20, 2001) in the Capitol Theater -- where we have recorded and played many times.
Family Swan
--
Yo Yo Studio
version -- live at the festival.
1. Jean gets a hug from Damo Suzuki, formerly of Can.
2. Spending an overcast day wandering around a town with known Ku Klux Klan presence. Finding this out later, from the comfort and safety of Chris Swanson's home Bloomington, IN.
3. Worst show of 2002: Vancouver, Mesa Luna. Coldest reception ever. The audience all sit way off to the side; no one seems at all interested. No one talks to us after we play.
4. Enjoying encores at the Hideout Inn, Chicago and in Fly Wheel Gallery, Easthampton, MA.
5. "Who's your Daddy?" and "Please don't smoke!" become meaningful secret-code phrases.
6. Fending off evil Egyptian pitbull in Boston for 18 hours.
7. Reading Post-it notes all over Tinuviel's house.
8. Forgetting to set boundaries with Billy and his conspiracy theories. He presents us with 12 hard cover books and a ceramic Shiva planter he calls "a dashboard ornament" (it is the size of a large watering-can).
9. Watching the Bunny Brains video and eating Dan's pancakes.
10. Jean's 3 A.M. rap session with teenagers in upstate NY.
11. Another contender for worst show ever: Tivoli, NY where the soundguy is only concerned with recording the show; he will not turn on the mains. Some of audience came up where we were, to listen to the monitors (when they weren't feeding-back).
12. Stopped in a taxi on the Brooklyn bridge while our driver entered into a road-rage fueled "And your mother too!" yelling match.
13. Smokiest venue ever: Ms T's, Vancouver.
14. Sear's Portrait Studio for promos photos.
15. Fun at the photo booth on the way out of Sear's.
16. Using the photo-booth shot for the CD cover art.
17. Indianapolis Matt says he has no food, but manages to make a really nice dinner for us!
18. Playing a show in Dayton to check out Dave Doughman's friends. Arriving in a town we'd never played, we were very surprised to read one of the best articles ever on Mecca Normal (by Sara Farr, Impact Weekly).
19. Mecca Normal's first classroom performance and presenting our workshop for the first time in Dennis McDaniels' poetry class at Saint Vincent's College, Latrobe, PA. The students had been studying Mecca Normal; our name was on the overhead projector screen when we arrived! Spending the night in the seminary and speaking with the students the next morning while we breakfasted freely.
20. Evil cat trying to get through Dave's bedroom door in Baltimore. Jean does not rescue Dave by opening her door and stepping into the hallway to face the screaming killer cat. Jean does not hear the end of this for a long time.
(Jean does not understand why she was supposed to risk her life by opening the door to her room when David was safely in his room. Nov. 2006)
21. Waiting outside for a very long time in Maryland for a young guy to let us into his parent's house.
22. Jean finds special walnut pastries after Kim's Underground show, NYC.
23. Driving 900 miles in 2 days, from Easthampton to Chicago. Rain storms obscure the road. 15 minute food breaks (yes, at McDonalds). Watching the Osbourne's in our middle of nowhere motel room in Kansas. Next morning at breakfast Jean over-tips the waitress who runs into the parking lot to return the extra amount. Jean can't stop thinking about Ozzy, of whom she has never thought before.
24. Dollar food at McDonalds, JFK airport.
25. Johnny Cohen's Love Hut makes an impression.
26. Staying up all night to drive back from Anacortes, WA.
27. Scary guy kneeling at our feet, moaning in time, at Hemlock Tavern, SF.
28. Performance, art show, workshop and sleep-over in the new Give A Fuck Committee Church, Bellingham, WA. It was perfect.
29. In Champaign-Urbana, Illinois, Jason Pitzl-Waters and Jacqueline Enstrom-Waters co-wrote an excellent preview for the Independent Media Center show -- one of our better-attended events.
30. Taking Swearing At Motorists' Dave Doughman (The Family Swan's amazing producer) to see our art show at the Balazo Gallery in SF, and the total thrill of finally seeing Swearing At Motorists play!
31. Eating $5 worth of Mexican food in Kelso -- endless salsa and chips are free.
32. Excellent people record shows, take photos and mail us the results. Thanks Jack DeGuiseppi, Mr Random in Eugene, Malachi in Chicago.
33. Small but friendly audiences use the word "inspired" to describe Mecca Normal events. This counts for a lot!
34. Being stopped by police at about 3 AM for accidentally driving up the wrong side of the road to look at cardboard box city near The Smell, LA. Jean is very happy to be a non-drinker at this and every other moment of the last three and a half years (on February 14, 2003).
35. Burritos after the Balazo show, SF.
36. David's artwork egged by stoned naked guys at CoCA, Seattle (they do the right thing and buy the piece).
37. Staying on Davis campus with a student whose small apartment has a fridge stocked with candy bars and pop.
38. Staying in dorm room at Chatham College while pajama party is in progress; wondering if there are laws about forty+ year olds being in dorm rooms.
39. Pittsburgh -- eating carrots in the car while Weird Paul ignores us.
40. Chocolate egg-creams in New Jersey diner after arriving in New York on Halloween.
41. New thing! Chocolate bars instead of dinner when time is short.
42. Jack and Elise visit Vancouver and donate a computer to Mecca Normal. Sitting in the Japanese garden Jack takes a survey based on a TV show. Everyone has to say what their relationship 'deal-breaker' would be. Jack deduces that for Jean, if the guy is breathing, that's a deal-breaker.
43. Singing greeter at Newark airport (Jean sang a question back to him, "Which way to gate A-16?").
44. Seeing Judy Chicago's "The Dinner Party" at the Brooklyn Museum of Art with Tae.
45. Discovering Normal, Illinois and hanging out with the wonderful Tim Feeney. Finding out why it's called Normal.
46. Watching 5 hours of soothing TV at Tae's. An English production on the life of an aluminum siding salesman.
47. Finding out where they keep the worst sushi in the world -- can't say where.
48. Hearing Miranda July in the elevator at the Whitney Museum, NYC.
49. Visiting Dalkey Archive Press in Normal, Illinois.
50. Getting artwork, postcards, CDs and books for sale at
http://www.buyolympia.com/q/Artist=Mecca+Normal
2003Janis Zeppelin
CD released on Mecca Normal's imprint
Smarten UP! & Get To The Point
. The CD includes a 20:22 minute version of
In January
as well as four songs recorded in 1984 but never released (Like A Rolling Stone and One Way Out).
2004
David and Jean in March, 2004 at the Xeno show, the beginning of the "Inspired Agitators & the Pantomime Horse" art, music and workshop tour (note the slightly stressed out look... smiles below, as the tour proceeds.)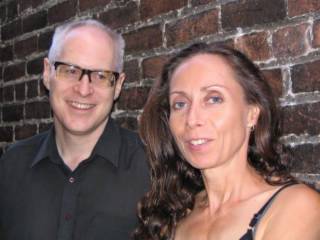 David and Jean in Victoria
Inspired Agitators & the Pantomime Horse
--
text and photos
Exhibition Proposal
for
Inspired Agitators & the Pantomime Horse
-- Cover Letter, Proposal, Artist Statement
Inspired Agitators & the Pantomime Horse
--
art exhibit images
EMAIL:
Jean Smith / Mecca Normal wrote:
wondering why you are selling one of my CDs "the eagle & the poodle" on eBay for $49.99
Jean Smith
Mecca Normal
Robert Smith wrote:
that is what I feel it is worth
Art exhibit and performance at Bryce's Barber Shop, Olympia
SHOWS -- Spring and Summer 2004
June: Vancouver (Butchershop Floor), Grand Forks Art Gallery, Kaslo, Nelson, Kelowna, Vernon Public Art Gallery, Olympia Experimental Music Festival, Bryce's Barber Shop in Olympia, Seattle (Left Bank Books)
July 16 -- Portland -- Disjecta Gallery with art show
July 18 -- Anacortes, WA "What the Heck Fest" July 15 - 18 -- Department of Safety with art by Jean and David in the Absent Album Art Exhibit
July 24 -- Victoria -- Fifty-Fifty Space with art show -- with Sylo
July 27 -- Denman Island, BC -- Community Hall with Sylo -- Mecca Normal 20th Anniversary Show!
July 28 -- Hornby Island, BC -- Wild Indigo Theatre Summer Production with Sylo
July 29 -- Duncan, BC -- Garage Showroom with Sylo
July 30 -- Victoria -- Ministry of Casual Living -- 6:30 reception, art show runs until August 5
July, 30 -- Nanaimo, BC -- Dizzy's with Sylo
July 31 -- Cumberland, BC -- The Abbey with Sylo
August 2 -- Vancouver -- Cafe Deux Soleil -- The Vancouver Poetry Slam
August 7 -- Vancouver -- Interurban Gallery -- Books to Prisoners Art Auction
September 2 -- Vancouver -- Emily Carr Institute of Art and Design -- Orientation for Foundation students, a multi-media Mecca Normal presentation
September 11 -- Olympia -- Kill Rock Stars Festival
::::
Tamra Spivey, the incredible voice of Lucid Nation, interviewed David and Jean for Newtopia Magazine (with artwork).
::::
May 7, 2004 Mecca Normal played two sets at Burnaby North High School. Jordan Koop recorded both shows. Jean says, "I spoke about the lyrics and our artwork between songs. It was fantastic! I described what was going on in my teenage life when I started painting self-portraits at age 13, and I talked about David's Inspired Agitators posters -- how the activists he depicts inspired him to play guitar."
2004"How Art and Music Can Change the World"
:
Emily Carr Institute of Art and Design, Vancouver, BC (400 Foundation students)
Burnaby Central High School, Burnaby, BC (400 students)
Grand Forks Public Art Gallery, Grand Forks, BC
Vernon Public Art Gallery, Vernon, BC
David Thompson Cultural Centre, Nelson, BC
Denman Island Community Hall, Denman Island, BC
Bean Scene Coffee House, Kelowna, BC
Art Exhibits:
"Inspired Agitators & the Pantomime Horse"Mecca Normal's touring art exhibit
Xeno Gallery, Vancouver, BC - March 25 - April 26
Emily Carr Institute of Art and Design, Vancouver, BC
Grand Forks Public Art Gallery, Grand Forks, BC
Vernon Public Art Gallery, Vernon, BC
David Thompson Cultural Centre, Nelson, BC
Cumberland Arts Centre, Cumberland, BC
Bryce's Barber Shop, Olympia Experimental Music Festival
Denman Island Community Hall, Denman Island, BC
The Crooked Cafe, Kaslo, BC
Bean Scene Coffee House, Kelowna, BC
Wild Indigo Theatre, Hornby Island, BC
Group Shows
Counterfeit Gallery, Seattle
Interurban Gallery, Vancouver
Ministry of Casual Living, Victoria, BC
Department of Safety, Anacortes, WA
Lombardi Gallery, Austin, Texas
Ladyfest, Seattle - 30 years of self-portraits from 1973 to 2003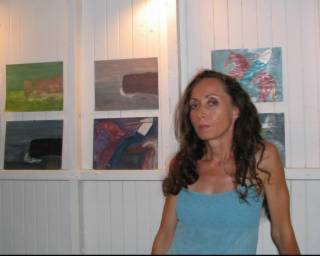 50 / 50 Space in Victoria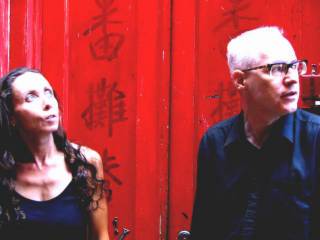 on the islands tour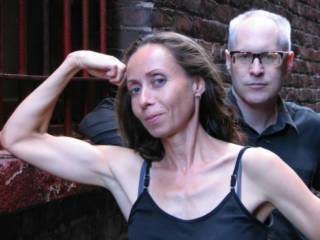 Jean & David in Victoria
Smarten UP! Records
releases:
Wendy Atkinson
-- Trim
-- all-bass album, using electric, acoustic and double bass.
2005"How Art and Music Can Change the World"
-- presented at
Richmond Art Gallery -- Arts For Life
keynote speakers addressing 200 high school students
Gruesome Acts of Capitalism
a book by David Lester
Located at the intersection of the statistical and the artistic, this catalogue of corporate horrors -- poverty, exploitation, and injustice -- is a damning indictment of capitalism, created with love and rage. Royalties from the book go to the Canadian Centre for Victims of Torture --
$550 have already been donated.
REVISED EDITION (2006)
-- available soon -- preface by Jean Smith.
3AM review of "Gruesome"
"Lester breaks down the system's more despicable traits into easy-to-read factoids that are certain to appall and inspire."--Alternative Press Magazine (Cleveland, OH)
Available in Canada from
Arbeiter Ring
and from
AK Press
in the US.
2006The Observer
CD is released in April on Kill Rock Stars.
Reviews, Interviews and Articles
"How Art and Music Can Change the World"
-- presented at the World Peace Forum, Vancouver.
2007 - 2017 -- a Mecca Normal history in point form, tour diary entries and reviews.